02/02/2023
Meeting Growing Rail Infrastructure Demands in Wales with AIVR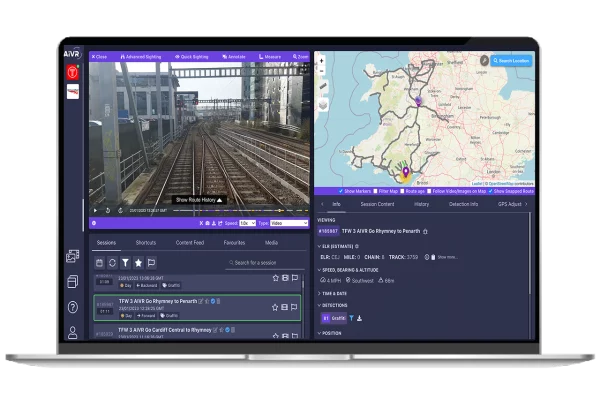 How Transport for Wales and Network Rail's Wales & Borders are using AIVR to support infrastructure delivery projects.
As the sector progresses onwards from the challenges of the Covid-19 pandemic, recent industrial action within the sector, and the ensuing challenges of recovering passenger numbers and confidence, enhanced targets for digitalisation throughout the devolved UK regions have initiated the rollout of multiple wide scale infrastructure projects. With government projections of a 15% increase in rail demand by 2024, projects such as HS2, Crossrail, and the Transpennine Route Upgrade are such examples of developments which look to expand and develop existing infrastructure to improve service capacity and connectivity across the board. Whilst the journey towards rail modernisation offers opportunity for a more operationally efficient future network, implemented bans to red-zone working in a sector-wide objective to improve track worker safety provide new challenges to the workforce in the delivery of infrastructure design, construction, and maintenance works; on-site survey and monitoring activities are essential in the planning and completion of infrastructure advancement projects, adding complexity to this delivery where repeated site visitations continue to be reduced. To minimise operational impacts to project development, whilst upholding vital safety measures, industry leaders have assigned increased investment to the development of technological systems which offer a virtual review of a site, allowing surveys to continue at pace without placing workforce trackside.  
One Big Circle has been working in collaboration with Network Rail and with Transport for Wales since 2019 to deliver AIVR to the Welsh network users, allowing comprehensive remote site surveying solutions. The AIVR system allows an interactive consumption of data captured from the rail, where integrated measurement, PDF reporting, annotation and exporting capabilities allow users to develop in-screen markups to complete cross-disciplinary surveys within the platform, informing infrastructure development processes through a digitally robust workstream.   
Collaborative Development 
To date, AIVR has captured over 500,000 miles worth of data across the UK rail network.  Instrumental partnerships with Network Rail and Transport for Wales, forged in the early stage of the pandemic, have supported the rollout of AIVR devices across the UK, allowing an extensive coverage of the rail network to be repeatedly captured for online review. This continued collaboration, with more Operators such as Avanti, South Eastern and SouthWestern Railway coming onboard, has increased data capture and reinforced further system innovations to develop.  Network Rail's Video Inspection Units and New Measurement fleet have incorporated AIVR devices which capture Forward-Facing Video, Thermal imagery, Line-scanning imagery, and targeted Pantograph data to be transmitted and reviewed in the platform for a comprehensive scope of rail infrastructure to be completed remotely. Working with the wider industry has led to further advancements in how users can interact with AIVR data, such as the integration and trial of AI models within the platform; thus far, AIVR Machine Learning models provide the automatic detection of defined assets such as ballast bags, signals, speedboards, with additional detections including track debris, graffiti, and more recently defined points of interest along OLE (Overhead Line Equipment).  
Whilst collecting footage from onboard trains is not a novel process the ability to see all that data instantly in the cloud has effectuated a greater shift towards online systems that virtually emulate on-site environments, to support online surveying and planning. AIVR is currently accessed by over 2,200 users daily spanning Train Operating Companies, Infrastructure owners, and broader supply chain organisations throughout the UK network to virtually execute site-based activities without having to jeopardise safety practices or project headway. 
Beginning Deployments and Rollout 
Back in 2019, initial iterations of the AIVR system were delivered through a month-long technical trial completed with Transport for Wales, initiating the first train operating company to deploy AIVR technology. TfW's early interest in the technology was prompted by efforts to better monitor and manage vegetation impediments throughout the region, allowing predictive planning to be executed. Two AIVR Go devices were provided as part of the trial to capture the track and surrounding infrastructure of the Welsh network from an in-cab perspective. The AIVR Go system consists of an encrypted device, mounted in the windscreen of any train cab; benefitting from the device's GPS enablement, these devices automatically transmit visual and spatial metadata via 4G to the AIVR platform for efficient analysis of the track and trackside to be undertaken. In just four weeks of the trial, 100% of accessible routes were covered successfully, facilitating a full mapping of routes across the region, allowing remote inspection of high vegetation areas to begin.  
Seeing the value in AIVR's capability to assist remote inspections of the Wales and Borders routes for vegetation management, and to inspect potential faults along infrastructure, TfW entered a twelve-month contract with One Big Circle in the beginning of 2020. Further collaboration with the Wales and Borders team at Network Rail has allowed data to be continuously and repeatedly captured and made available within the AIVR platform, to support recurrent virtual reporting across a defined route. The successful completion of this agreement led to a further roll-out in 2021, which stipulated additional AIVR Go devices to continue a more frequent data capture of the Welsh routes, a requirement that benefited from the widespread support of the TfW Driver Managers. Since initial deployment and through the ongoing engagement of the drivers team, over 28,000 minutes of data have now been captured, reviewed and analysed by multiple disciplines throughout Transport for Wales, with users accessing the platform to deliver a plethora of remote practices including Route Familiarisation, Level Crossing Management, and Signal Sighting. 
"Our services run over more than 1,000 miles of track, so staying up-to-date with changes to the environment is crucial to running a safe and reliable railway for our customers, and enables us to work closely with our partners. With management of the Core Valley Lines infrastructure under TfW this makes a huge difference to the way we respond to create massive customer, safety and performance benefits."  Rick Fisher – Timetable Governance Manager Transport for Wales
Supporting Ongoing Infrastructure Development 
In the wider context of Transport for Wales' South Wales Metro project delivery, the continued delivery of AIVR data collected across the Welsh network has supported wider use cases throughout the renewal and expansion works driving the project. The ongoing Core Valleys Lines (CVL) Transformation is the beginning phase of Transport for Wales' ambitious plans to advance integration and connectivity throughout the wider Welsh network, with a scope of deliverables including 170km of track electrification installed throughout the Core Valley Lines routes, extensive signal renewal and replacement, and the construction of a new depot located in Taff's Well. The £750m transformation is the largest government-led rail infrastructure project undertaken in Wales for decades, beginning the first phase of the South Wales Metro project's programme to deliver a more reliable, accessible, and sustainable transport framework.  
The project has employed Tier One contractor Siemens Mobility to deliver the full scope of signal renewals and construction throughout the redevelopment; Siemens Mobility was one of the first supply chain companies to access AIVR as part of the redevelopment works, utilising data collected across the Welsh network to support virtual signal sighting activities via the platform. The routes which make up the Core Valley Lines run through rural and difficult to access terrain, where easy access is often limited, making repeated sighting practices often difficult to plan and inefficient from a cost and time perspective. AIVR users are able to create annotations within a video frame to highlight positions for signal placement – the corresponding position of the annotated section is made readily available, assisting a more targeted on-site assessment to be enacted whilst reducing the requirement for repeat site visitations. Further organisations involved with the project such as KeolisAmey, the Infrastructure Manager responsible for the delivery of the CVL redevelopment, also utilise AIVR via the Transport for Wales workspace to monitor the trackside environment throughout the Welsh routes. As Transport for Wales and the wider supply chain organisations working with the TOC utilise the system, targets for a reduction in on-site requirement are upheld whilst the project continues to progress towards 2024 completion aims.  
Throughout continued partnership, Transport for Wales have worked with One Big Circle to identify additional beneficial features to expand the range of disciplines AIVR can support throughout the Welsh region. Employing Augmented Reality techniques, a model placement feature was trialled by the TOC to provide a more advanced virtual sighting workstream, further supporting the planning and delivery of resignalling projects. Integrating a 3D flag model capability to simultaneously act as a 'datum point' (a point of reference) existing AIVR data, users place and reposition a visible flag along the visible trackside – users can then scrub through footage at different distances to test the level of visibility of the placeholder 'signal' marker, using the platform for initial sighting activities as opposed to undertaking the associated travel to site, the logistics required to arrange necessary line blockages or possessions and reducing boots on ballast, contrasting traditional sighting activity requirements.
Continued Innovation 
Early-stage partnerships formed with both Transport for Wales and Network Rail have been instrumental in advancing AIVR's development and capabilities; each organisation has facilitated wide scale capture of critical data throughout the UK network, which is used by multiple supply chain organisations to carry out remote inspections throughout the delivery of broad-scale infrastructure projects. As AIVR has continued to be employed throughout the network, further innovation projects using AIVR have also been delivered. Working with a wide range of programmes and services across Network Rail, including AIS, SIG and IM, R&D and Route Services, One Big Circle have delivered a range of innovations and integrations, one such example being the AIVR Thermal system throughout routes in Sussex and Wessex.  The thermal imaging system incorporates both thermal and forward-facing video devices within a rugged-proof Tail Lamp Bracket box to simultaneously capture and transmit both visual and temperature details along a rail route to be accessed within the AIVR platform. AI capabilities are applied to this data to automatically detect temperature exceedances along the track, referred to as thermal 'hotspots' to alert users to areas of potential concern and to allow them to review the visual and hotspot data within the system to develop dynamic decisions on the response required. This project secured the 2022 'Safety Achievement of the Year' National Rail award, with ongoing developments in place to further roll out the system across the wider routes. 
"The AIVR technology has evolved rapidly to give us real time insight on the network to aid planning and maintenance, to keep our colleagues safer and trains on the move.  The successful rollout of the AIVR system and the expansion of the types of data captured has been largely due to continued engagement with the end users who need the data, and ongoing collaboration with operators and other expert suppliers who can help deliver that data and insight." Wayne Cherry, Senior Innovations Engineer Network Rail.