CASE STUDY
Transport for Wales
How TfW embraced AIVR Technology and derived multiple benefits from the data they regularly capture.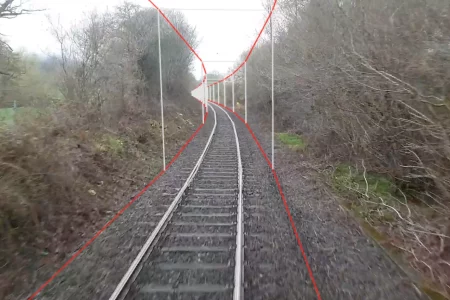 In 2019 TfW faced a 90% non-compliance rate against line side vegetation standards across their network, leading them to actively pursue new solutions involving a more efficient and innovative vegetation monitoring scheme.
The Challenge
"The mandate from my Director of Safety was clear. We needed to identify and deploy solutions to remove these risks, working with our infrastructure partners such as Network Rail, sharing intelligence with them and reporting any non-compliance hotspots to prioritise the work"
Rick Fisher – Seasonal Planning Manager, Transport for Wales
Go Pro captures and paper based reporting were used as part of TfW's initial solution, however this approach presented significant challenges; the data was out of date rapidly, and impossible to share effectively or easily outside of the office.  The reporting collated valuable information for the organisation, but again had no scale or wider accessibility.
The Solution: AIVR
In December 2019 One Big Circle provided a single AIVR device to TfW to deploy into the cab windscreen.  Within three weeks, the whole of the network had been mapped, with issue areas highlighted and prioritised.  Following this successful trial 5 AIVR Go devices were then deployed to TfW fleet long term and were stationed in various depots to cover all regions of the network on a regular basis.  
In continued collaboration Network Rail and the supply chain were able to access the TfW captured data to inspect and assess the footage, and when Network Rail's Measurement Fleet captured data in the TfW network the video was shared in both directions to ensure all parties could receive as much up to date information.
Three years into the relationship, multiple sectors and departments of TfW now benefit from the data – from vegetation management, signal sighting and operations teams through to planning and route familiarisation activities.  In continued collaboration with their infrastructure partners, they are reducing hundreds of hours of Boots on Ballast and improving safety and performance. 
"AIVR provided us with a range of different solutions including rapid access which could be quickly shared with the right people, machine learning models to automate the process of identifying high-risk sites, pug and play solutions which could be used across our entire fleet and data, including metadata, which could be fed into reports that could be shared with the wider business."
Benefits
Vegetation Management
Virtual Track Access
Increases Safety
Route Familiarisation
Open Data
Assists Seasonal Planning
Time Saving
Carbon Saving