CASE STUDY
VolkerRail
How VolkerRail use AIVR to assist with signal sighting activities.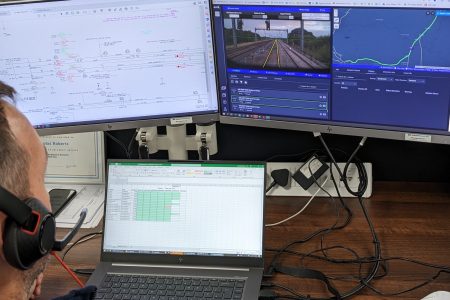 VolkerRail Specialist Businesses LTD is a leading multidisciplinary railway infrastructure contractor specialising in signalling and operational telecoms, electrification, power, piling and ground investigation, rail operations track construction, renewals and maintenance, and also track welding. These specialisms cover the full project lifecycle, from design through to installation and testing.
The Challenge
From a signalling perspective, VolkerRail Specialist Businesses are contracted to design, install, test and commission infrastructure alterations on the railway network.
Line-side assets would normally have to be assessed for access and condition during preparation of tenders and then during the design & implementation stages of respective projects. These surveys required travel to site across the UK resulting in high costs and time commitment.
Alternative historical line-side video platforms helped in this regard, but the footage was often difficult or late in accessing and very often out of date.
The Solution: AIVR
AIVR has given VolkerRail up to date virtual access to the network to provide value and efficiency to their clients on a significant number of their tenders and projects, aiding activities such as site access planning, asset condition, signal-sighting, Temporary Speed Restriction (TSR) design, correlation, surveying, and further on-site activities.
VolkerRail employees are now able to get "eyes on the ground" prior works to help identify any risks and hazards along the route, that they may not have otherwise been aware of. With access points integrated into AIVR's system, VolkerRail utilise this information to get a view of access points and full site of work, enabling them to plan for delivering materials as well as asses the terrain they will be working on. This allows VolkerRail to predict any problems, and in turn create solutions in advance, reducing the need and risk of staff attending site, and as result reducing costs as planning accuracy is increased.
AIVR's instant and UK wide forward facing footage gives VolkerRail the ability to view the track from a drivers perspective, specifically allowing VolkerRail's signal sighting engineers and designers to view signals and signs in incredible accuracy and clarity, utilising AIVR's measurement tool to input into build and critical sighting compliance parameters. AIVR allows signal sighting committees to convene off-site in a safe environment to make data-driven decisions away from the risks of the track.
Benefits
Cost Saving
Increases Safety
Assists Signal Sighting
Virtual Track Access
Time Saving
Carbon Saving
Easy to use
Collaborative