21/12/2020
One Big Year in Review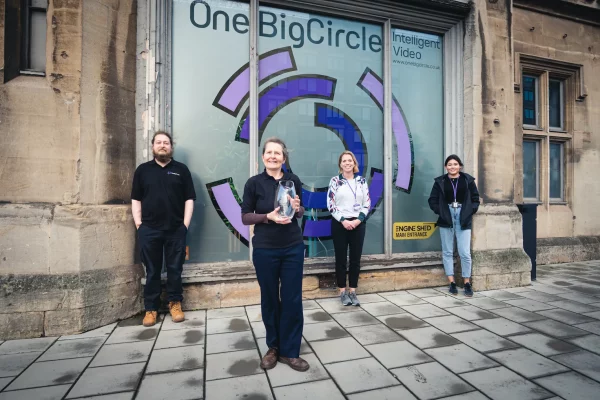 As we're in the final weeks of 2020, we've taken some time to take stock of all that's happened over the last 12 months. While there's no doubt that 2020 has been an eventful year, One Big Circle has managed to soldier on, despite the obvious challenges of Covid-19.
In fact, we're grateful to have had quite the landmark year and accomplished a significant amount of milestones. So, without further ado, let's take a moment to reflect on the eventful year that was 2020.
Starting the year on a positive note
In January, we attended our first industry event of the year, First of a Kind, a competition hosted by Innovate UK to accelerate innovation in rail. Here we had the chance to pitch AIVR and interact with lots of other like-minded businesses within the industry.
January was perhaps a significant turning point for us as it was also the month we secured our first contract with Transport for Wales. They partnered with us to use our Automated Intelligent Video Review system (AVIR) to analyse and report on vegetation risks to increase safety on the Wales and Borders routes.
In February, we welcomed two work experience students to the team, Guarav and Sameer. We also pitched and exhibited at Network Rail's Signalling Innovations Group Expo in Bristol, which just so happened to be next door to our offices.
Making progress despite the Covid-19 challenges
In March, lockdown hit. Just like everyone else, the team quickly had to adjust to remote working and adopt new ways of working. But aside from the logistical challenges, there was some positive news. In April, we were awarded the Innovate UK Grant with UWE and Winvic for a health and safety system in the construction industry.
The good news continued in June, as we secured our first contract with SIG Network Rail to use AIVR to capture data on the move and help Network Rail collect video data across the network.
In July, our development of external housing for AIVR – designed in response to the lockdown restrictions so that it could be fitted externally rather than in the cabs – was approved and rolled out on the wider network. Then in August, the secure rollout of Station Surveillance SBRI – a project we partnered with The Manufacturing Technology Centre on to monitor anti-social behaviour – was successfully deployed at London Bridge Station.
Award wins
September was a particularly rewarding month for us. We scooped two awards – the 'Small Scale Project award' at Rail Innovations Awards and the 'Innovation' award at Wales Transport Awards for our work with Transport for Wales.
Investing in people 
We also had important new starters come on board in recent months – Chloe, Will and Ian joined us in the space of a few weeks. We poured some of our investment into growth and strategy too, welcoming David and Toby as Executive Chairman and Non-Executive Director, respectively, to the board. Then to top it all off, we were selected for the Tech Nation Applied AI Programme.
In October we were finalists in the RIA Rise Awards. We also kicked off our work with Amy and her team at Hey Me agency, to bring their skills in communications and PR to the business. Another major highlight was the start of our partnership with Tier 1 suppliers: Atkin & Siemens.
In November, we were finalists in the Rail Business Awards and we ploughed through lockdown number two while making the exciting decision to take on additional workspace.
Finishing the year on a high
December saw us unveil our brand new AIVR website, and we also took home the Tech Spark Sparkies award for hardware in providing solutions to technical challenges in a range of industries. What a great way to wrap up the year!
We're extremely proud to have supported the rail industry through the pandemic. It's been exceptionally rewarding to collaborate with the wider network to rise above the challenges that Covid-19 has thrown our way. While 2020 has no doubt been a tough year for the world, we're so proud of how far we've come given the circumstances, and we can't wait for what's in the pipeline for 2021.