27/04/2023
One Big Circle Host The Railway Innovation Group Regional Meet-up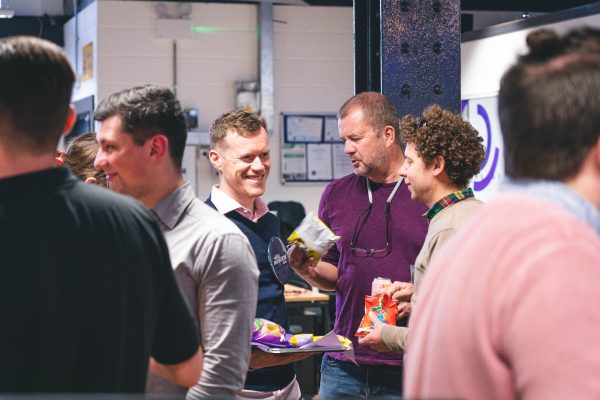 One Big Circle were delighted to invite The Railway Innovation Group to our Bristol offices on the 26th of April to host their April regional meet up.
The event kicked off at 4pm with some refreshments – in true OBC style, all purple-themed – before delivering a presentation covering some of the more recent advancements in AIVR. We were extremely grateful to hear from our fellow presenters working in the rail innovation space: Liz Davidson from rail technology company Esoterix, Anne Spaa from the Connected Places Catapult, and Chris Wood from Penzance based technology SME Ocean3D. The OBC offices were filled with fellow RIG members and attendees from TfW, Thales, Network Rail, GWR, and Jnction, one of the SME suppliers working with Connected Places Catapult on their 'Station Innovation Zone' initiative, a 6-year programme which will trial innovative SME technologies working to improve and advance rail passenger experience.
The Railway Innovation Group have been instrumental supporters in OBC's growth, helping us to navigate the sector as an SME from our early days of operation. We first connected with the RIG team back in 2019, when AIVR was in its first iterative development and we were exploring opportunities to deliver the technology to the Rail sector; Liam and the team have been dedicated ambassadors for OBC and AIVR, and have continued to help us build key partnerships and introductions with industry leaders, to better understand the structure of the rail community as we've continued to grow over the last 5 years.
It was a very 'full circle' moment to re-welcome the RIG team to our offices after we met them at the Bristol Engine Shed for our first pitching event back in 2019. Emily shared a little more about AIVR's ongoing development, including our work on thermal hotspot detection along the conductor rail captured using AIVR Thermal technology, which is now continuing its rollout across further Welsh and Wessex routes in collaboration with Network Rail.
Our Software Developer Harvey then walked us through the stages of automatic processing and detections in deployment, which are helping us to refine a mammoth petabyte of data currently stored in the AIVR platform. There are thousands of assets being automatically detected by AIVR on a daily basis, covering over 30 object types – the team are developing AI models to better refine these detections, allowing users to review the best captured image of detected signals, thermal hotspots, track components, and further points of interest, whilst simultaneously creating necessary observations to alert users to potential issues in rapid time.
We then heard from Anne at Connected Places Catapult who shared insight on the progress of the Station Innovation Zone progress, an exciting initiative engaging with multiple SMEs in efforts to create a roadmap for a safer, more seamless passenger experience. The programme will be activating three new SME technologies at the end of next month to begin trials, so it was wonderful to hear the ongoing ambitions for the project – particularly as the programme is based at Bristol Temple Meads station, OBC look forward to hearing more updates as the project advances.
Liz Davidson from Esoterix then spoke to us about their exciting passenger behaviour technology, Get to Know Them, a smartcard-based system which helps to design unique travel profiles for individual passengers based on their rail use behaviour patterns. This data and the associated AI algorithms are being used to deliver targeted updates and messages to passengers, helping them better plan their journeys, avoid crowding, and enjoy engaging media whilst onboard.
Last but certainly not least, Chris Wood presented on Ocean3ds incredible 360° interactive tour technology, a capture system which is being employed to help train users virtually explore railway stations to increase familiarity. The team shared how their engaging system is helping passengers overcome accessibility barriers within the rail space, providing users with a digital replica of a station that can be walked through online, allowing passengers to be completely acquainted with platform access, toilet and hospitality facilities, and predictively plan their journeys through a station.
Finishing the evening off with some more refreshments and networking, the whole OBC team were on hand to chat about all things AIVR, providing further demonstrations of our thermal cameras and some of the hardware systems involved in capturing AIVR data. Collaboration is all about connecting with your community, and we want to thank The Rail Innovation Group and all the attendees once again for making the journey to OBC to join in conversation; we look forward to the future meet ups on the horizon!