25/10/2023
AIVR Detecting Low Ballast and Wet Beds on the UK Railway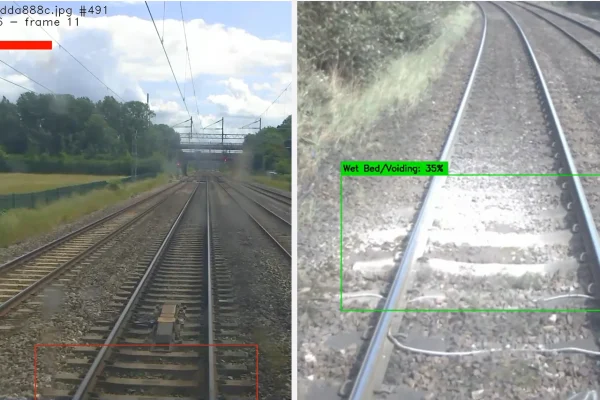 One Big Circle have been working collaboratively with Network Rail (Eastern Region) experts to monitor and improve the UK railway through remote infrastructure monitoring, increasing efficiency and safety by reducing boots on ballast.
The project consists of using innovative AIVR technology to capture Forward-Facing Video data from the track in rapid time, which is then automatically uploaded to the AIVR Platform where machine learning is applied to detect low ballast and wet beds/voiding.
AIVR Detecting Low Ballast
Ballast holds sleepers and track in place and bears the load as trains travel over the track. When ballast levels are low, this can cause issues with track stability and drainage, and in extreme cases lead to track movement and the formation of wet beds.
AIVR's Machine Learning classifier models are built and developed in-house by One Big Circle to automatically assess whether ballast levels are low and require attention from engineers at Network Rail.
The Machine Learning model gives a higher score for cases that are more likely to be severe; red represents potentially low ballast, and Green represents an acceptable ballast level.
All relevant data captured by AIVR, e.g. location, is then collated and ready to download in an easy-to-view report for engineers to review.
AIVR Detecting Wet Beds
"Wet beds" occur when ballast fails to drain due to a blockage in between pieces of ballast, resulting in the build-up of water in the ballast and formation. This causes localised track geometry deterioration, and in severe cases can necessitate the imposition of speed restrictions. Once established, Wet Beds can only be corrected through intrusive interventions such as ballast replacement or track renewal.
AIVR's Machine Learning object detection model has been trained to spot Wet Beds or Voiding to assist maintenance teams to accurately locate these features and assess their severity without having to put boots on ballast.
Maintenance teams can easily review the sites on the AIVR Platform, which also allow the export of the data source via a spreadsheet or other open formats.
This project with Network Rail is currently trialled on the Eastern region, as part of the on-going collaboration to adopt technology to improve staff safety!