16/03/2021
One Big Circle's pioneering technology deployed by Network Rail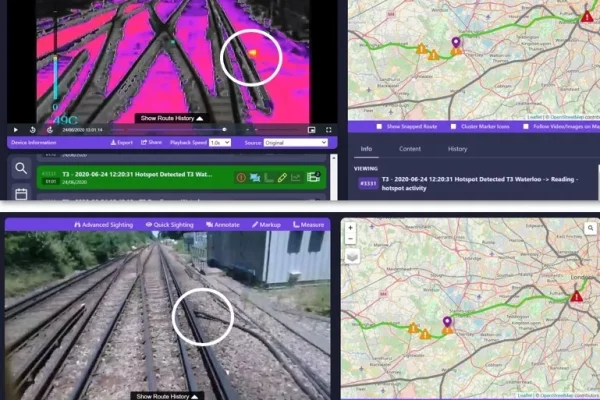 Intelligent video specialist, One Big Circle has successfully secured a contract with Network Rail to detect critical faults on the conductor rail of the electric sections of routes. One Big Circle's solution combines its award-winning AIVR (Automated Intelligent Video Review) on-train technology with thermal cameras to detect hot spots of over 80 degrees on the conductor rail and will begin life on the South East route for the next six months.
The contract win follows intensive collaboration work between One Big Circle, Network Rail's Signalling Innovation Group (SIG) and the Intelligent Infrastructure Group, who carried out a 'proof of concept' trial throughout Summer 2020.
One Big Circle's Emily Kent comments:
"We are so pleased that our partnership with Network Rail has resulted in an ongoing solution that not only creates a more efficient reaction to safety critical scenarios, but also reduces the need for site inspections as we continue to operate within the confines of COVID-19 and beyond.
"Our technology provides engineers accurate data to instantly and remotely monitor situations online, ensuring they deploy the most appropriate team to deal with a fault quickly and effectively before it becomes a full failure of the line. This next stage of the project is really exciting and the collaborative relationship with Network Rail allows us to work right alongside those who will benefit directly from the technology and ensure it's truly fit for purpose."
David Shipman, Innovations Engineering Manager of Signalling Innovations Group for Network Rail, comments:
"Working with SMEs such as One Big Circle enables us to bring specialist skills and innovative ideas into the industry to help us meet our challenges.  The development of the thermal monitoring is just such an example and will help us improve safety and efficiency.  This further enhances survey capabilities that are being extended and developed through NR R&D programmes such as Target 190plus to transform the way we monitor and update our assets across multiple disciplines."
When One Big Circle's existing AIVR software, which was built to detect anomalies in the rail infrastructure, is combined with the thermal camera it automatically detects and sends alerts detailing when and where the maximum temperature has been breached. Hot spots are discovered both on the conductor rail and connecting electrical cables, immediately sending the data back to the remote monitoring system and its team of engineers to verify.
During the trial period last summer, over 100 hours of video footage were captured, and a variety examples of temperature breaches were detected by the technology, providing the proof of concept needed to secure the contract and continued partnership between One Big Circle and Network Rail, and utilising the support of train operators such as Govia Thameslink Railway (GTR) whose trains will carry the cameras. The thermal cameras and AIVR devices will be mounted onboard in-service operational vehicles across the South East for the next six months, aiming to then be available across the UK rail network.
GTR's Head of Engineering and Asset Management Dave Hickson said:
"We are actively working with Network Rail to use our in-service trains to improve the railway through enhanced maintenance methods."