CASE STUDY
Siemens Mobility
How Siemens Mobility uses AIVR to boost efficiency, increase safety levels and reduce carbon emissions on rail upgrade projects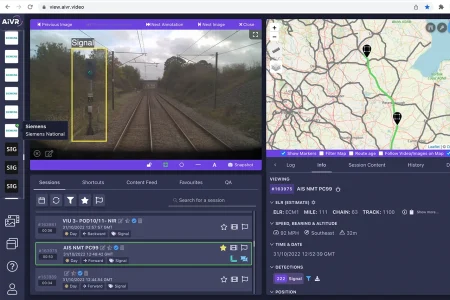 Siemens Mobility is a primary contractor for mainline and mass transit rail infrastructure projects in the UK. They deliver rail infrastructure transformation from design to installation, across Signalling, Power, Telecoms, Networks, Control Systems and Electrification.
The Challenge
A key part of Siemens Mobility's process is to develop a detailed audit of the environment undergoing infrastructure changes, and this is typically done via trackside visits.
The visits involve walking along the track to check existing assets, such as cable routes, finding areas where new assets can be located, checking for safe access and walkways, and undertaking any other preparation.
These site walks are often required to be repeated, resulting lots of travel and associated carbon emissions, as well as lots of time on location.
The Solution: AIVR
Siemens Mobility teams use AIVR to make the process of trackside site assessment more efficient. The system allows teams to familiarise themselves with their project environment from the safety of a remote location, without the need for "boots on ballast."
This reduced the number of site visits required, which helps to increase safety, reduce the carbon emissions required for multiple visits and simultaneously boosts team efficiency.
The team uses AIVR's functionality to check for safe site access, make estimates for signal placements and share findings and notes with colleagues across multiple locations.
The use of AIVR has boosted the efficiency of trackside site assessment for Siemens Mobility's teams. It has also helped to reduce health and safety risks and carbon emissions.
During Siemens Northumberland Line Project, AIVR enabled...
Benefits
Time Saving
Carbon Saving
Cost Saving
Increases Safety
Assists Signal Sighting
Virtual Track Access
Collaborative
Easy to Use