18/08/2023
Young Rail Professionals Visit One Big Circle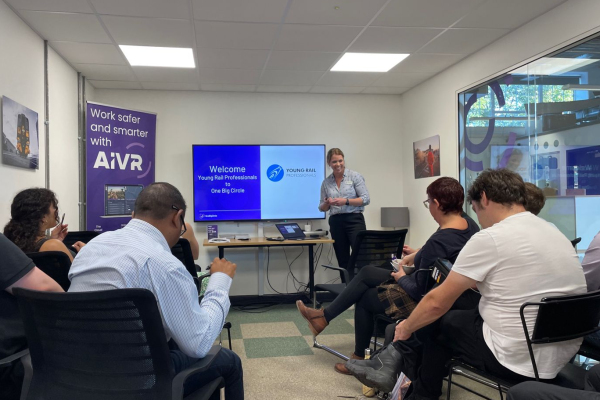 The Western branch of the Young Rail Professionals team visited the One Big Circle offices this week, as part of their social events calendar based in and around the West.
Following an exciting afternoon tour of Great Western Railways' St Phillip's Marsh depot, the group spent an evening at our Temple Studios based office to partake in some refreshments and engaging rail-related presentations. 
The Young Rail Professionals is a not-for-profit organisation, first established in 2009 and operating throughout the UK as multiple regional bodies. The organisation rallies together individuals with under 10 years of rail industry experience, to offer its members crucial networking and development opportunities, in addition to international study tours to engage. The YRP Western branch recently held a networking event hosted at One Big Circle's neighbouring startup community, Engine Shed, which the OBC team were delighted to attend as part of the branch's regional relaunch. 
Tuesday's event was kicked off by committee member Jack Evans, Engineering Management Graduate at GWR, who shared an update on GWR's recent fleet changes. These developments have involved recent CET instals as well as additional fuelling points at the St Philip's March HST sheds; Jack closed his presentation by sharing GWR's future decarbonisation vision in the reduction of diesel powered train operation. 
One Big Circle co-founder Emily Kent also shared an overview of some recent successful AIVR projects deliveries, spanning our work with Network Rail delivering automated low-adhesion monitoring solutions and further recent Machine Learning and AI integrations. Present members shared crucial feedback on the system and the range of data on offer within the interface. 
Dr Emma Finnegan, the EDI Project and Development Manager for the Rail Delivery Group then presented on how the group collaborates with the wider industry. The Rail Delivery Group accrues a variety of individuals spanning Network Rail, Train/Freight Operating Companies, and rail trade unions to enhance customer services across the UK rail network; Emma shared her ongoing progress in implementing a road map to meet Diversity and Inclusion targets across partnering organisations within the RDG. 
Jordan Jones and Steven Lawrence of GWR also shared insightful and important presentations about GWR's REACH – Recognising Ethnicity and Cultural Heritage – group and the TOC's LGBTQ+ programme, Aspect. Both speakers highlighted the incredible work these groups are doing to maximise inclusivity within Great Western Railway, and their aims to showcase these approaches throughout the industry. 
"It's been wonderful engaging with the YRP Western group to celebrate the value the young workforce imparts across the rail sector" comments Cate Lough, Accounts Manager and YRP committee member. "We look forward to continuing to work together at future collaborative events, and spreading the great work the group is doing"