06/06/2023
We're Exhibiting at Rail Live!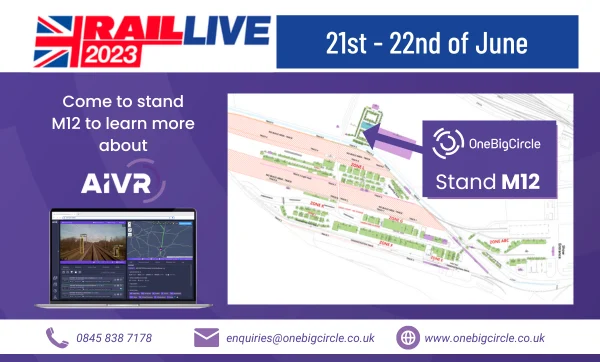 One Big Circle will be exhibiting at stand M12 at this year's Rail Live, where we'll be showcasing the latest developments in AIVR and sharing insight from some of the past year's innovation projects.
This year will be the third time One Big Circle pull on our PPE and hit the exhibition stand. We first attended Rail Live in 2019, a significant couple of days for the team as the first large-scale rail industry event One Big Circle attended. The 2019 event launched our first exciting steps into the rail industry, and now four years down the line, the annual 'festival of rail' has become one of the most highly anticipated dates in our events calendar; we're looking forward to returning to the Long Marston Rail Innovation Centre on the 21st-22nd June to catch up with current AIVR users, connect with new organisations, and learn all about the incredible products and technologies on display.
We have a lot in store to share with you across the two days, and we'll have the whole OBC team on-hand to answer any-and-all things AIVR! We're taking part in RIA's Rail Live 'Rail Trail', so if you're joining in the treasure hunt, be sure to visit stand M12 to collect your stamp and tick One Big Circle off your list.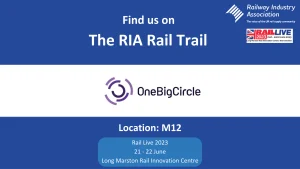 You'll also find us at the Network Rail village, where we'll be supporting a number of AIVR demonstrations. You'll be able to hear more about our work with Network Rail facilitating remote S&C inspections, alongside further collaborative projects underway.
We can't wait to see you there for what we're sure to be an excellent – and a hopefully sunny – few days of rail excellence. To fulfil your company's remote inspection monitoring needs, head to stand M12 to chat with our team!