12/08/2018
STEAM – and the dream.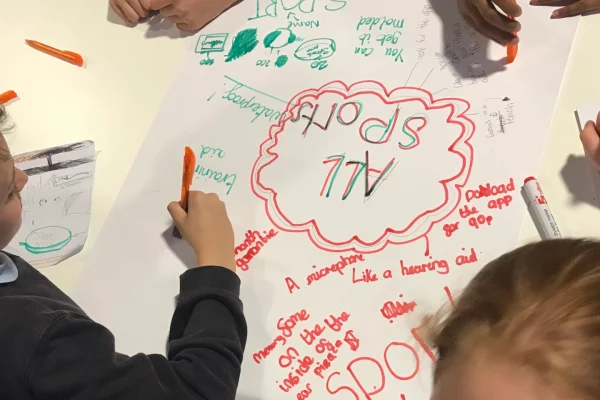 One of the activities we particularly enjoy at OBC is when the SETsquared team ask if we can
run a workshop for school groups visiting their award-winning incubator at the iconic Engine
Shed in Bristol. The aim is help children realise what opportunities are available to them, what
they could achieve with the knowledge they gain through school, and how they can harness all
STEAM subjects to that end. (Science, Technology, Engineering, Arts, Maths – in case you were
wondering)
The ambition of this holistic approach to learning is admirable and very much anchored in the
real world, recognising that formal education should reflect the world the children will be growing
up in, and provide them with the tools to thrive within it. Rather than single silos of subjects and
retention of facts, it is about problem solving, collaboration and cross-subject exploration.
Words that could well translate as 'blah blah blah …' to the ear of the average 10 year old on a
school trip. So how do we demonstrate what we're trying to explain?
We like to set a product development challenge for the pupils to complete in groups. They are
tasked with creating a new item of clothing or equipment for their favourite sport into which they
have to incorporate a technology that collects some form of data. They decide on the product,
the tech, the look, the name, the design, the data, and then give a short presentation, all whilst
having to collaborate and negotiate with each other, work to their individual strengths and draw
on the ranges of skills across the group.
From mixed martial arts training suits, night vision swimming goggles, retracting spikes so you
can walk off pitch, and camera embedded netball goals, they never fail to deliver innovative
ideas that they can envisage using in their own lives. Some groups have even set price points
and BOGOF deals in readiness to go to market! Entrepreneurs in the making.
We finish by telling them that what they've done is a condensed version of our day job (if only it
were possible to tie everything up within the afternoon!) and that they've put into practice all the
knowledge they already have across STEAM. There's no reason why what they have thought
of on that day can't become reality, and imagine what they can create in a few years time.
There's always a few future entrepreneurs who check what their commission will be or who
owns the rights at the end of the workshop. Bright sparks!
Bringing an idea to life – be it a product, a process, an event, a campaign – and having the mix of
skills as an individual and across your team to achieve this is the message we want to get
through to them, and one we can all benefit from when we're back in the day job.