24/02/2021
Safety, transmitting and predictive maintenance on the railway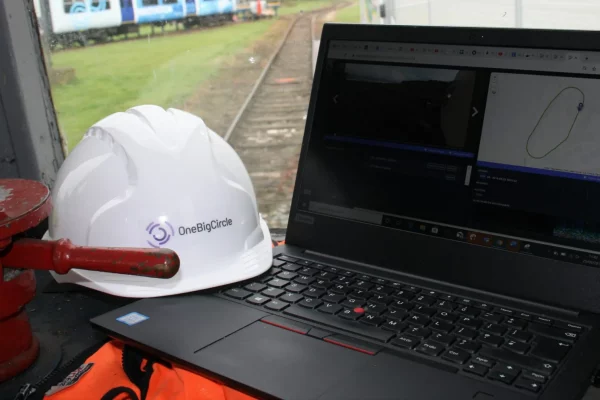 Safety is of paramount importance to the rail sector. The emergence of new digital technologies are rapidly increasing the industry's capabilities to enhance safety. In particular, remote conditioning monitoring is playing a major role in minimising manual intervention, early fault detection and improving safety in the rail environment.
Remote condition monitoring and safety
Remote condition monitoring automates condition measurements through the analysis of past and present data. Abnormalities in assets can then be identified and predictive maintenance can be carried out.
This means it's possible to monitor infrastructure such as tracks, the lineside, signalling systems and other technology around the train routes remotely. The benefits are that it allows you to predict and prevent problems from escalating before they pose a safety risk. This not only reduces the time it takes to carry out a manual inspection, but also allows maintenance to be scheduled more efficiently.
Our Automated Intelligent Video Review (AIVR) utilises remote condition monitoring to achieve all of the above. It transmits live video footage directly from a train route and highlights target areas or assets that require further attention. It enables you to monitor safety issues, one of those being vegetation on the lineside – a key consideration when it comes to keeping trains and passengers safe.
Spring/ summer safety concerns
As we approach spring to summer, there are numerous environmental changes taking place around the railways that need to be monitored. Increased growth of shrubs, plants and overhanging leaves can cause significant problems on the lines, reducing visibility or blocking important infrastructure such as signals.
AIVR makes it possible to directly detect specific areas of concern, by recording, analysing and reporting vegetation risks along the tracks. Collecting this kind of data is especially useful in secluded rural areas or in safety zones where faults or issues are difficult to uncover with the naked eye.
In addition, AIVR's capability to record each route means you can monitor the data over different seasons and conditions. You can then train the data to model and forecast areas of vegetation that are at different levels of risk, enabling you to proactively plan for maintenance tasks.
Digitising the maintenance process in this way helps to improve rail workers' health and safety by minimising their exposure to a live track environment. It also reduces the amount of time needed to complete a manual inspection.
Speeding up important maintenance tasks can benefit workers' physical and mental health too by relieving some of the strain on teams from having to work late on last-minute requests. This can reduce the possibility that they will become exhausted or stressed and helps reduce errors.
Due to high temperatures, spring/summer weather can present the danger of rails buckling from extreme heat. Identifying an exact bit of track that's overheating and flagging it immediately on the virtual dashboard gives the ability to detect faults in real-time, ensuring that critical repairs can be carried out as quickly as possible, reducing the risks.
Another consequence of better weather is increased trespassers on the railway, with numbers spiking particularly over the summer holidays. Vandalism such as graffiti and damage to fences and tracks pose a significant threat to rail operations, causing danger and major disruptions for passengers and workers.
AIVR can automatically detect graffiti which helps determine if trespassers have been on the lines or not. It also enables you to drill into an area of graffiti further to inspect it in more detail, which is useful in busy areas. It can even identify people on the trackside, which is valuable not only in terms of spotting trespassers, but also in checking that workers are wearing the correct protective gear.
Improving safety in times of Covid
In times of Covid, being able to remotely monitor routes and infrastructure is incredibly beneficial, particularly with less workers being allowed to physically go out and inspect the lineside. Sharing vehicles is also prohibited at the moment, so the use of automated technology helps to significantly cut down on the amount of people out and about.
AIVR has meant that spring cab ride demo training and other critical work can still go ahead as planned. As AIVR has the functionality to record data, it not only allows you to view changes in routes over time, but it can also be put it in place for driving routes too. Our cloud-based technology has always been designed to be operated remotely, so it has proved to be invaluable in times of home working and restricted measures.
Stepping away from traditional fixes and embracing new technologies like remote condition monitoring and working collaboratively can provide a far more reliable and efficient way of complying with safety regulations. Harnessing safety performance through digital means will rapidly change the rail industry moving forward, helping to create a digital railway that's safer, cost-efficient and less disruptive for everyone involved.