19/01/2021
Relationship building and working with Network Rail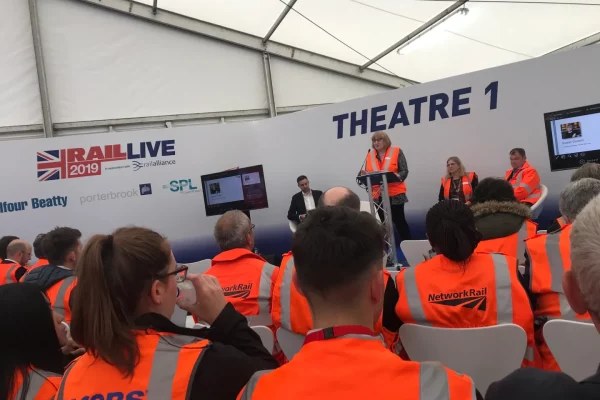 In January 2020, Network Rail set out a plan to work more closely with small and medium sized enterprises. The aim was to make it easier for SMEs to work with them and engage with infrastructure projects across the country. One of the assessments to determine the viability of this plan was whether Network Rail was able to increase its SME spending. Over the first 12 months it achieved this and more.
This plan was put in place alongside the Open for Business programme, which aimed to encourage third-party investment, and focused on six areas of improvement: engagement, pre-procurement, procurement, contract management, supplier management, and innovation.
The timing of Network Rail's renewed focus on the way it works with SMEs was perfect timing for One Big Circle. We were able to benefit from the groundwork that Network Rail, other stakeholders, and other SMEs had been doing over the previous few years and gain access to channels and opportunities that may have been difficult before the plan was in place.
This time last year we had just started to build our relationship with Network Rail after its 2019 Rail Live session piqued our interest in the industry. We spent several months trying to find out more about the challenges the industry was facing and the role we could play within it. Listening to the operational and strategic needs, and ensuring that we could align and respond rapidly to those, has helped us to develop both our working relationship and our product – AIVR, an automated intelligent video review device for mapping, monitoring, and maintaining the railway infrastructure.
Every day we see and hear the depth and breadth of rail knowledge that there is within the people that work in the industry, so we asked ourselves 'how can we provide the tools and services that enable them to use that knowledge even more smartly and efficiently?'.  Open data and system integration enables that way of working to evolve – to be online and collaborative, but still protected and secure.
Comment by Emily Kent
As Network Rail worked to improve the product acceptance process, and provide better support for SME innovation, we were able to make use of the increased engagement with supplier working groups to increase our knowledge and understanding of the challenges. Allowing us to be  responsive to current challenges and investigating if and how they were changing.
The new ways of working, and increased attention on working more collaboratively from an early stage of innovative development, supplied us with the perfect situation. We were able to build relationships with the NR Signalling Innovations Group, and work with them from the beginning of our development process. One of the benefits being that we are a relatively risk-free option to test things out and explore solutions.
We have always believed in openness and the importance of collaboration in developing new software, and we were aware from early on in our investigations that the rail industry sometimes fell foul to segmented approaches and thinking about data, monitoring and analysis, as well as restrictions on software and legacy systems which could be used and integrated with new solutions. Initially, it helped that we were new to this process so had no preconceived ideas about the way things should be done. This allowed us to provide a brand-new perspective whilst using our technological expertise to offer enhancements to what was already in place.
Working closely and directly with end users, we ensured that our road map stays on the same path as the organisational and industry needs. With encouragement and reassurance, we demonstrated that using systems with access to open data and machine learning would be a reliable, efficient, and secure way to increase knowledge and understanding across the infrastructure.
Throughout the past year we have worked with representatives from across the industry, using our knowledge as integrations specialists to deliver rapid solutions and establish ourselves as a valued supplier. We share new developments that are on the technical horizon and work with users to add relevant capabilities to AIVR.
The rail industry alongside all other sectors of travel, and the infrastructure and services around them, now faces the eventual post-Covid challenges of how to adapt their delivery in a changed world.  We and other SMEs are part of a growing, reliable, innovative supply chain than can help meet the cost efficiencies and technical and behavioural change now needed.  From rapid response capability to delivering the objectives of Project SPEED, we hope that we can now share our learnings and support how other SMEs can work with the rail industry and continue the industry journey of innovation.