CASE STUDY
London Bridge Station
An intelligent surveillance system in a challenging operational environment enabling 5 x faster response time for safer station management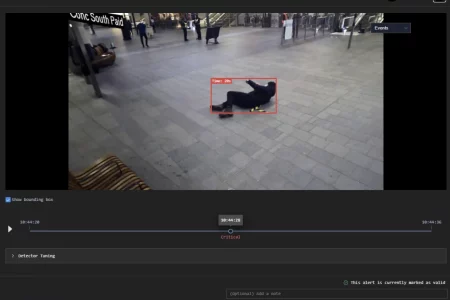 In 2019 Innovate UK and Network Rail launched an SBRI Challenge to industry to investigate to what extent Video Analytics and Machine Learning could be successfully deployed in a station environment to automatically identify significant developing issues and improve speed of response to manage the station more efficiently.
The Challenge
Existing station surveillance systems require human operators to manually monitor a large number of screens, constantly scanning for a diverse set of potential safety and security issues in a complex, dynamic environment. In a large station such as London Bridge where the number of cameras may run into the hundreds and many thousands of people move through the station every hour, this can be a daunting task.
The Solution
One Big Circle and the MTC began a partnership to meet this challenge, and we created an intelligent security surveillance system to detect incidents such as abandoned baggage, unusual dwell-time, violence and complex crowd dynamics, all in real-time.
The first step to power this was to integrate a custom-built high-power compute installation with the existing cameras at London Bridge station. We then used Apache MXNet to run deep learning models trained on data from the rail environment, and developed a bespoke camera calibration tool that meant our Behaviour Detection algorithms could operate in three-dimensional real-world space, unlocking the ability to use signals such as velocity, true position and dwell time to identify complex behaviours such as distance of individuals from items of luggage over time.
Alongside this integration the aim was to deliver a consumer-grade user experience in a challenging operational environment that would be of benefit to all operational staff dealing with these potential scenarios. After conducting research with our end users to understand the practical realities of their workflow, we used the latest web technologies like React to develop a powerful workstation interface empowering station staff to rapidly verify and escalate incident alerts without distracting from existing duties.
With this successful progression being made in 2022 we developed the AIVR Lookout (Automated Intelligent Video Review) brand to promote the outputs of the project and expound the safety and commercial benefits to future customers, such as the creation of pedestrian recognition technology to improve safety at high-risk CCTV level crossings.